Covering trends in commerce, media, and marketing daily.
2020 has long been billed as the year the streaming wars really heat up. Netflix executives will be pleased to see then that it's still top dog when it comes to streaming app downloads -- racking up almost 60m in the first 3 months of the year according to a new report from Apptopia and Braze. Rivals Amazon Prime and Disney+ only managed ~45m combined.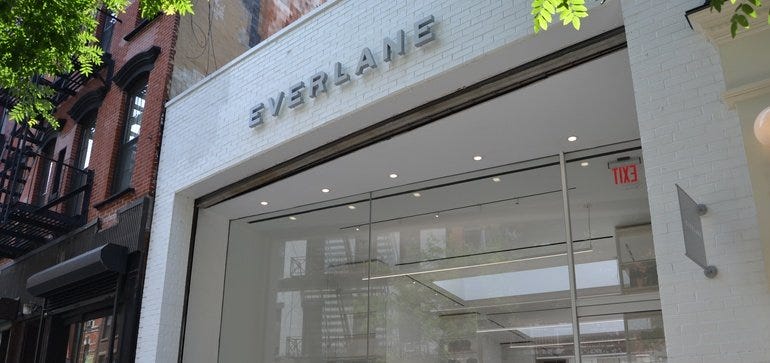 What the coronavirus means for DTC brands
Digital natives may not face the massive store closures brick-and-mortar retailers are grappling with, but they have their own obstacles.
Similarly, Kohl's on Monday said it took steps to help mitigate the financial impact of the outbreak , including cutting about $500 million in capital expenditures; reducing marketing, technology and operations while stores are closed; and fully drawing down its $1 billion revolving credit facility.
Right now, brands may need to find solutions that give them the most flexibility in the event that the disease returns in the same way in a couple of months, Evan Bakker, a principal in the intelligence practice of Gartner for Marketers, said in an interview, adding that he expects there to be less of a commitment to expanding permanent shops now.
As the DTC reckoning accelerates, founders turn to each other for advice and sanity | Modern Retail
The reckoning was a while in coming. It just wasn't expected to come like this. After all, people on Twitter, that favorite platform of the direct-to-consumer startup community — and plenty of…
After all, people on Twitter, that favorite platform of the direct-to-consumer startup community — and plenty of articles on this site as well — love to talk about one of a few things: If there's a direct-to-consumer ceiling; the best way to acquire customers, and the inevitable slowdown and burst of the DTC bubble as unprofitable businesses are due to run out of cash, with no investors left to fund them.
"The coronavirus outbreak notwithstanding, there were a lot of issues that were spread out through the rest of the DTC ecosystem going into the first-quarter of this year," said Jeremy Cai, founder of Italic, which sells luxury bedding, apparel and handbags.
The Four Rules of Pandemic Economics
A playbook that should govern America's short-term reaction to the health crisis.
The new law also delays tax filing, suspends wage garnishing among those who have defaulted on their student loans, and establishes a four-month eviction moratorium among landlords with mortgages from federal entities, such as Fannie Mae and Freddie Mac.
In addition to coordinating a test-and-trace strategy, Washington should train its prodigious energies toward defeating the disease as fast as possible, by establishing billion-dollar prizes for vaccine and antiviral breakthroughs and by relaxing regulations to accelerate the approval of new treatments.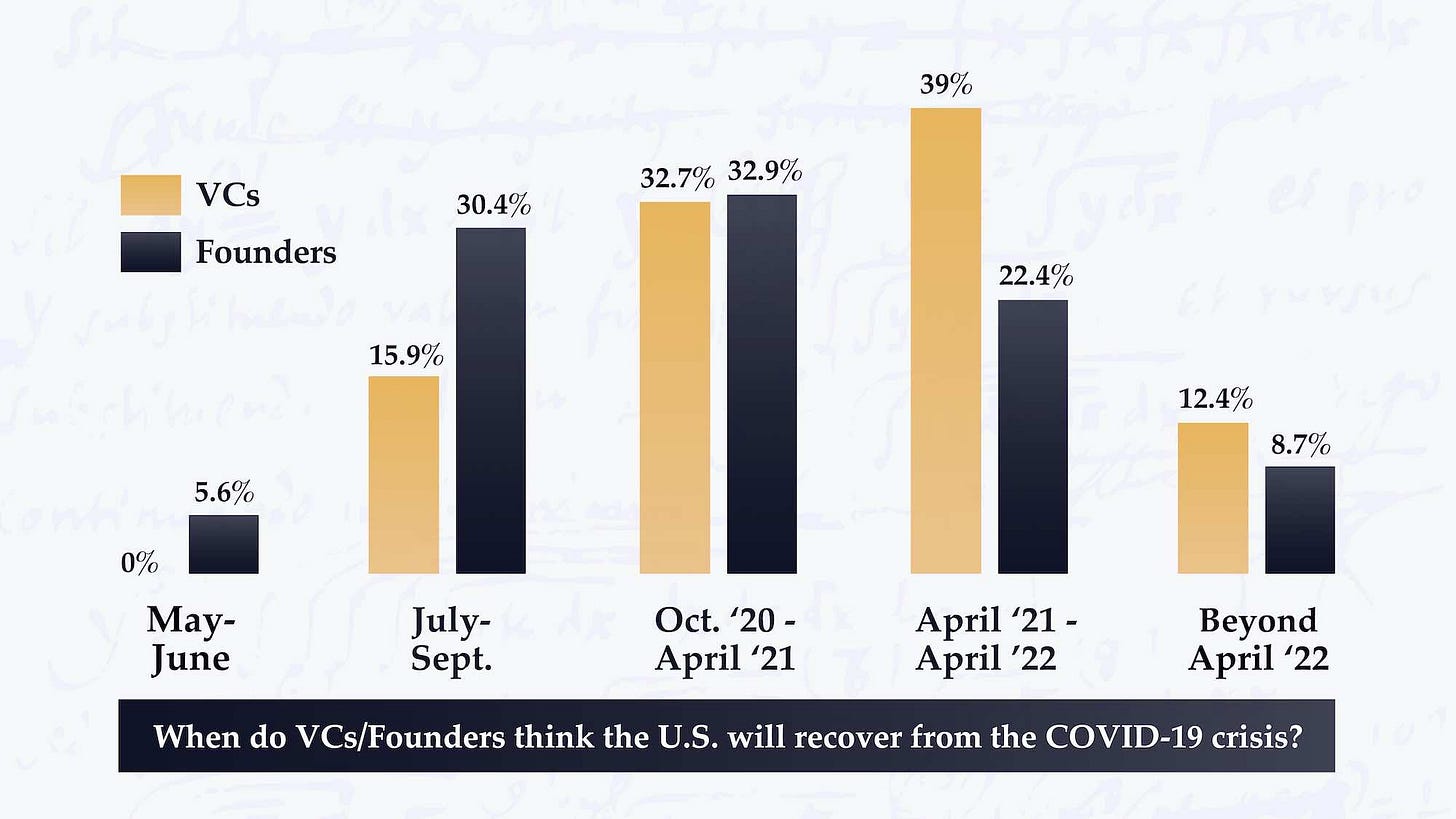 The VC & Founder Sentiment Survey
NFX, an early-stage venture firm based in San Francisco, surveyed 286 seed-stage and Series A Founders and 114 VCs to capture sentiment data during the COVID-19 crisis. This data will hopefully add value and perspective for stakeholders in the startup ecosystem.
The goal is to provide a reference point to the community in the midst of one of the most unpredictable climates we've seen.
We partnered with Crunchbase to review funding patterns from seed to Series C through the last downturn to understand the impact of the 2008 financial crisis, and what we can learn for today.
US weekly jobless claims double to 6.6 million
First-time claims for unemployment insurance had been expected to total 3.1 million, according to economists surveyed by Dow Jones.
"Not only was the number worse than expected, but with lockdowns becoming stricter and being extended, we should anticipate further surges in jobless claims over the coming weeks," said Seema Shah, chief strategist at Principal Global Investors.
Those at the lower end of the wage scale have been especially hard hit during a crisis that has seen businesses either cut staff outright or at best freeze any new hiring until there's more visibility about how efforts to contain the coronavirus will work.
Rude awakening ahead for e-commerce brands like Warby Parker and Allbirds
In 2019, online sales for direct-to-consumer brands reached $14.28 billion, according to data from eMarketer. In 2020, sales are forecast by the firm to grow 24.3% to $17.75 billion, slowing from 33.1% growth last year, and down from 56.5% growth in 2018.
"Even though consumers are buying more products online due to the coronavirus, digitally native [direct-to-consumer] brands should anticipate hardships in the coming months," eMarketer analyst Oscar Orozco said in a report.
Shoe maker Rothy's, which uses recycled materials like water bottles in all of its products, said it is prototyping new personal protective equipment at one of its owned facilities.
Shopify shares fall as much as 13% after it suspends 2020 guidance due to coronavirus disruptions
Shopify suspended its full year 2020 guidance due to growing disruptions from the coronavirus pandemic, but said it expects first quarter revenue to be in-line with expectations.
"Given the uncertainty surrounding the duration and magnitude of COVID-19, Shopify is suspending the financial expectations provided for full year 2020," the company said late Wednesday in a press release .
This will enable us to report revenue and adjusted operating income for the first quarter within or ahead of the range of expectations provided on February 12, 2020, despite the global economic disruption that emerged in March triggered by COVID-19," it said.
Making the Leap to Entrepreneurship
Lessons from the founder of Schmidt's Naturals.
Through my own experience founding and growing Schmidt's Naturals from my kitchen to an acquisition by Unilever, overcoming business-threatening obstacles along the way, I've come to understand some primary principles that entrepreneurs can pursue to help ensure the viability of their own businesses:
Insight Center After pursuing a series of hobbies and side hustles (everything from wood carving to interior design to trying to grow loofah sponges), I finally figured out what I wanted to do when I was thirty-one years old and seven months pregnant: I attended a DIY class that awoke my passion for making and selling natural personal care products.
7 Female Founders Whose Online Businesses Are Booming In These Times
Americans have radically shifted their online shopping behaviors in the midst of the new normal. With the gravity of self-isolation setting in, these 7 female-founded businesses are seeing their online brands soar to meet the needs of consumers who want to be happy, productive, and healthy.
Bala Bangles/Timony SiobhanAmericans have radically shifted their shopping behaviors in the midst of the new normal as COVID-19 "has dramatically changed the way people around the U.S. now live their day-to-day lives." There is a silver lining for many online businesses with specific product categories suddenly seeing "significant interaction increases in the wake of wide-spread social distancing."
The idea for 'Bala,' which means 'strength' in Sanskrit, emerged from a yoga class meant to burn off "steam." After an hour of light stretching, the couple felt unsatisfied and began sketching out designs for a more fashionable, more functional wrist and ankle weight.
Amazon drops out of NewFronts, joining Twitter, Digitas and Walmart's Vudu
Other publishers like YouTube told Adweek they still plan to participate in the rescheduled event, but are working through what presentations will look like.
The NewFronts, originally scheduled from April 27 to May 6, are the latest industry events upended by the coronavirus, joining the upfronts in feeling a pinch from cancellations and the awkwardness of pivoting an experience focused on glitzy presentations and in-person deal-making to a digital format.
While a number of heavy hitters like YouTube and Hulu remain onboard for the NewFronts, the show's diminished agenda and the difficulties of conducting business as usual in a remote environment emphasize how digital media is weathering a serious shakeup under the pandemic.
Amazon Prime to stream SXSW films from canceled festival
Amazon Prime Video is partnering with South by Southwest (SXSW) to present all of the 2020 festival's featured films on streaming services following the annual event's cancellation due to the coronavirus pandemic.
Therapy, Redesigned
The product idea was for a new kind of women's mental health clinic, more of a studio or a sanctuary than a doctor's office, with a digital backbone.
They're also fun to read, with an economy of words that speaks to empathy for the overcrowded inbox, but with an abundance of that dancing emoji that looks like Jabba the Hutt on Red Bull.
Bill Gurley and Chetan Puttagunta – An Update on Consumer & Enterprise Venture Capital – [Invest Like the Best, EP.162]
My guests today are Bill Gurley and Chetan Puttagunta, both partners at benchmark capital. We review the early stage investing world in the face of coronavirus in a very timely conversation, which is one that will remain valuable once this crisis is done. We discuss enterprise and consumer, funding and growth, and the entrepreneurial spirit in the face of a crisis. Please enjoy.