Business of Shame, Clearbanc Banks $50M, Celebs as Designers, Spindrift vs. Lacroix, Fandom vs IP, Van Life, Optimal Streaming Bundle, Just Add Water Products
If you enjoy Trendslates, take a second to forward this email to your friends!
Investors bet another $50M on Clearbanc's revenue share model – TechCrunch
That company disrupting venture capital just raised more venture capital. Clearbanc has attracted $300 million, including a $50 million equity investment led by Highland Capital with participation from Arcadia, iNovia and Emergence Capital, and another $250 million from limited partners.
Coupling data and machine learning technology, Clearbanc is quick to make decisions about potential investments, driven by a lofty goal of backing 2,000 companies by 2020.
"The 20-minute term sheet was our take on showing the market how fast we could get startups access to capital," Clearbanc co-founder and president Michele Romanow tells TechCrunch.
Opinion: The business of shame is giving way to a new league of women's brands – Glossy
We're seeing a new crop of brands that prove if you can effectively dismantle a limiting narrative for your audience, you can create new behaviors, new truths and a new opportunity for your company to speak to your audience.
They make no secret of the 'pleasure gap' they doggedly seek to close, they have an active Dame Labs that invites users to join their people-centered research and, most importantly, they employ very clear design thinking: "Our products should look like beauty tools," according to the brand.
Their outdoor advertising campaign, "The New Normal," depicts teachers, officers, artists and public servants as people first, MedMen users second.
It's official: Celebrities are the new designers - Fastcompany
You're not imagining it. The hottest fashion labels of our time are from celebrities with a strong point of view, like Rihanna, Beyoncé, and Kanye West.
Then two years later, reality TV star Heidi Montag launched Heidiwood , which consisted of skimpy shorts and animal print tops and was universally panned.
As a cultural critic in The Atlantic pointed out, her creations have "a kind of ethnographic richness and creative depth." She, and many of her celebrity designers, are contributing meaningfully to the current fashion landscape.
Amazon hasn't dominated the clothing industry yet. Here's why. - Technology Review
After books, movies, and groceries, Amazon has announced it's tackling the last and toughest bastion of retail with Personal Shopper by Prime Wardrobe.So, it's like Stitch Fix?
As Stitch Fix CEO Katrina Lake said on a recent episode of the podcast Recode Decode, Americans still buy 80% of their clothes at physical stores —despite the fact that malls are fast becoming artifacts and shopping online is the norm.
If it doesn't, it'll be a testament to one stubbornly human fact: people like to buy clothes they can touch and feel first.
How we stopped counting calories and learned to love Spindrift - VOX
This popular seltzer has a few calories. It says a lot about how we think about health today.
Bubbling forth from certain springs, naturally filtered and carbonated mineral water was believed to have curative properties for centuries before it was ever bottled, and were you both ill and wealthy, your doctor might prescribe you a trip to the spa, to soak and also sip.
Virginia Sole-Smith, a journalist and author of The Eating Instinct: Food Culture, Body Image, and Guilt in America , explains the chronology like this: On the one hand, you have people frustrated with "the Jenny Craig calorie counting model," because it's hard and joyless and, in the long term, rarely seemed to work.
When Fandom Clashes with IP Law - HBR
Should companies control all the ways people experience art?
This has largely resulted from the Copyright Act of 1976, which gave companies control over not just substantially similar reproductions in the same medium, but also over derivatives in a wide range of media, even those far flung from the original work.
Online marketplaces like Etsy are teeming with unlicensed creative products inspired by the fantasy worlds of Harry Potter , Game of Thrones and Stranger Things .
With Zyper investment, VCs are betting on "influencer fatigue" - Vogue Business
With backing from Forerunner Ventures and Y Combinator, Zyper is positioning "super fans" as an alternative to paid influencers.
The San Francisco-based company was founded by Amber Atherton, whose star turn on British reality TV show Made in Chelsea revealed the less palatable sides of becoming an influencer.
Zyper uses computer vision and natural language processing to "read" both images and text on social channels and combines that with predictive analytics to identify the brand's top fans.
Your New Favorite Brand Is Designed By…Your Favorite Store - GQ
And a large helping of data. Welcome to the age of the private-label brand.
They are everywhere across the menswear stratosphere: Union Los Angeles, Need Supply, and Totokaelo all launched one, while Target and Amazon sprouted several each; Kith, which started as a sneaker shop in the back of New York-based Atrium before pivoting dramatically to its own line, is proof of how dominant in-house brands can become.
But beefing up on private label is a pragmatic move—one of the few ways for a retailer to make a case for a customer to shop with their store over another that doesn't involve offering free two-day shipping.
How 'Van Life' YouTuber Jennelle Eliana Amassed 1.3 Million Subscribers With 2 Videos In Three Weeks - Tubefilter
What do you get when you mix solo travel, vandwelling, and pet reptiles? YouTube magic. A nascent vlogger named Jennelle Eliana has amassed a staggering 1.3 million subscribers on her eponymous channel in roughly three weeks and after having posted just two videos to date. Eliana is 20 years old and currently living in her 1995 GMC Vandura Explorer -- accompanied by her ball python, Alfredo.
YouTube declined to comment specifically as to how and why Elliana's channel and videos have caught on so quickly. (To be fair, she had also garnered a substantial following on Instagram prior to her YouTube foray -- to the tune of 189,000 followers. Though that figure still pales in comparison to her performance on the video hub).
Apple is starting to thrive again, even as the iPhone stalls - Quartz
Against the odds, Apple pulled off another strong quarter.
Beyond services, Apple's smaller hardware divisions all pulled their weight in the quarter, each posting a gain over the same period last year.
Cook said during the earnings call that the company expected to launch in August its new credit card, which has now been tested by hundreds of Apple employees.
In Tallying Up Streaming TV Services, Users Say $21 a Month Is Optimal Price Point - Morning Consult
Using the van Westendorp model, which finds an optimum price point for a good or service by considering what prices consumers find to be "too expensive" and "too good to be true," consumers would be willing to pay between $17 and $27 total for all their streaming services, with the optimal price being $21.
Morning Consult, with The Hollywood Reporter, asked 2,200 adults in a July 12-14, 2019, survey what they would be willing to pay for all of their streaming services each month.
But if they're fans of "The Office" or "Friends" — two of the most popular shows on Netflix right now — they will have a tough time getting more than two subscriptions together: "The Office" will eventually move to NBCUniversal's new service, which will cost a reported $12 a month for those who don't subscribe to pay TV, and "Friends" is moving to WarnerMedia's HBO Max, which is reported to be slightly more than HBO Now's $14.99 .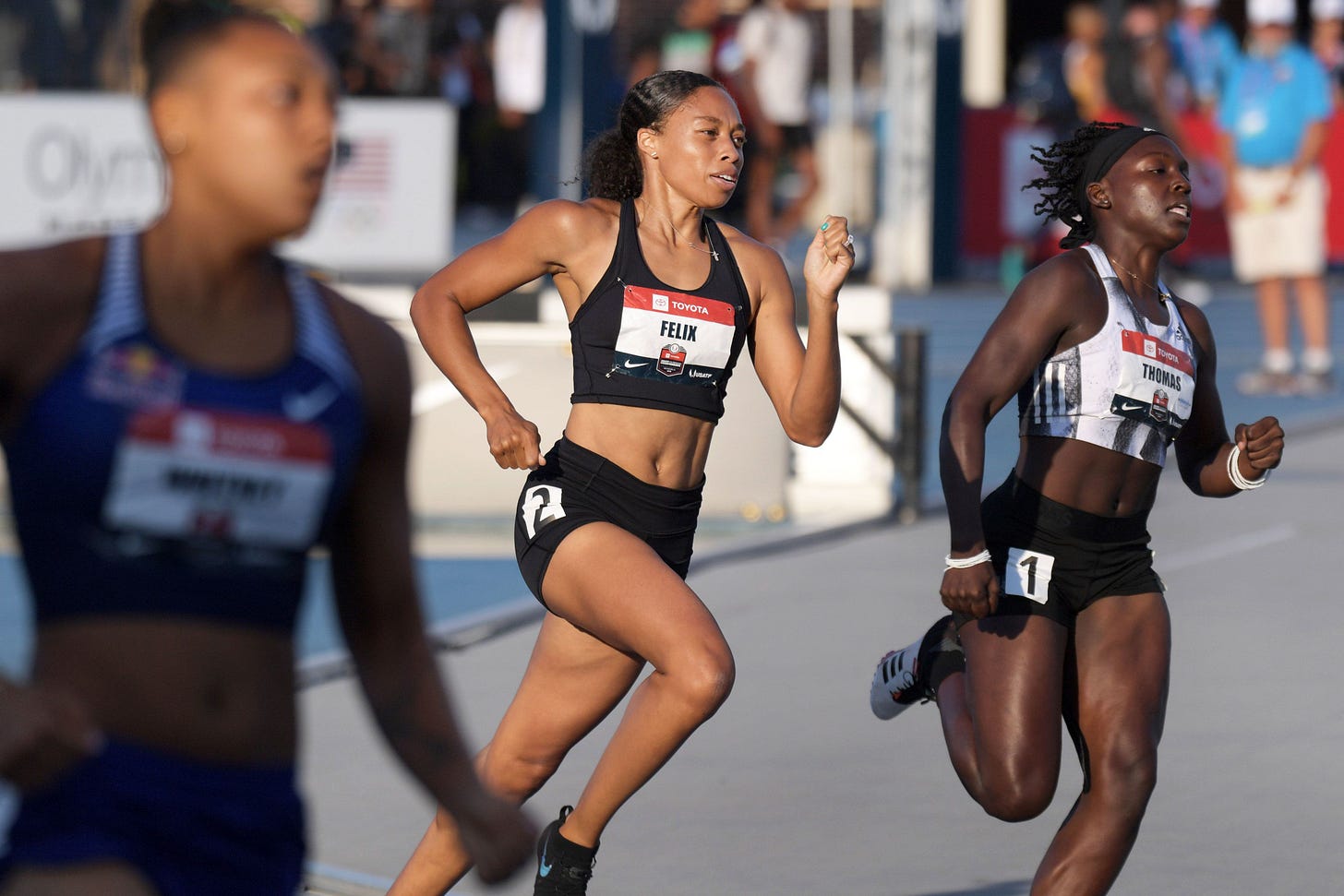 Gap's Athleta brand lands its first sponsored athlete: Olympic track champion Allyson Felix
Athleta, Gap's athletic-wear brand for women most akin to Lululemon, has a new strategy to win more shoppers: sponsored athletes. It strikes a deal with Olympic track star Allyson Felix.
Allyson Felix (center) and Brionna Thomas run in a women's 400m semifinal during the USATF Championships at Drake Stadium in Des Moines, July 26, 2019.
On a call with analysts in May, CEO Art Peck said Athleta "continues to be one of North America's fastest growing athletic brands and is positioned to capture share."
Retailers turn to podcasts to expand content programming | Modern Retail
More retailers are turning to podcasts to get across their brand messaging. The most recent example is Staples, which announced an entire new content platform. The question remains:
The company is even forgoing its descriptor as an office supply store to become a much more philosophical "worklife fulfillment company." It's part of Staples rebranding efforts — which include it offering coworking spaces — as a way to gin up new business and target younger professionals.
"Instead of focusing on marketing its existing assets — which is like putting lipstick on a pig — this time and money would be better used closing underperforming stores, opening new ones and tightening up the product assortment, especially if the retailer wants to go after younger customers and make the case to shop with Staples over Amazon," wrote brand consultancy Loose Threads in a research note.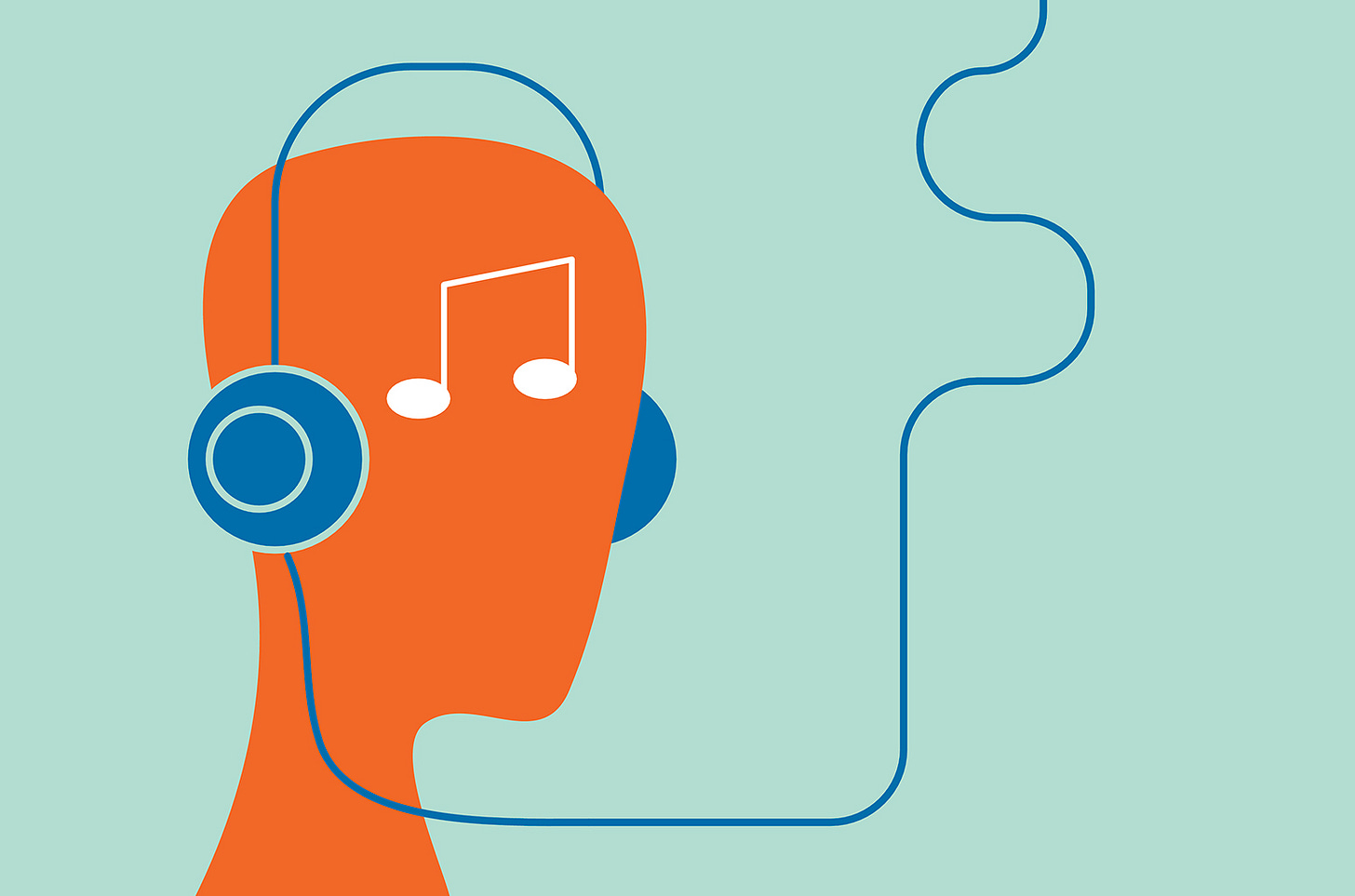 Study Shows Rise in Podcast Listening By Millennials, the Biggest 'Audio Generation' - Billboard
Podcasts now represent almost 10 percent of audio listening among millennials, with podcasts replacing online video as a daytime escape.
Recently, the Edison Infinite Dial 2019 study reported that podcast listening is up 48 percent among Americans aged 12-24 compared to two years ago.
"Audio is hot right now and a must for marketers looking to reach increasingly elusive and fractured audiences," comments iHeartMedia chairman and CEO Bob Pittman .
Facebook just published an update on its futuristic brain-typing project - The Verge
Researchers are studying new ways to read people's minds
An electrode array recorded activity in parts of the brain associated with understanding and producing speech, looking for patterns that matched with specific words and phrases in real time.
"Being able to decode even just a handful of imagined words — like 'select' or 'delete' — would provide entirely new ways of interacting with today's VR systems and tomorrow's AR glasses," the Reality Labs post reads.
Inside Nuuly, Urban Outfitters' attempt to take on the rental clothing market | Modern Retail - Modern Retail
According to president and chief digital officer David Hayne, Urban Outfitters, Inc.'s well-oiled e-commerce and retail machine, as well as its deeper pocket of resources, will be Nuuly's advantage as…
According to Hayne, the company wanted full control over its rental model, which led to it building the operations — which include a digital inventory tracking system, a new e-commerce experience, shipping, delivery and returns processing, and a fully owned dry cleaning arm — from scratch.
While the company is valued at $1 billion and has been rumored to be exploring an IPO, it's run into recent problems at scale, including customer service, inventory availability and shipping delays, as the Wall Street Journal reported last week .
Highsnobiety's David Fischer: 'We're really doing e-commerce' – Glossy
On this week's episode of The Glossy Podcast, Hilary Milnes sits down with Highsnobiety's founder and CEO, David Fischer, to discuss the company's transition to e-commerce, its partnership with Prada, and the future content and commerce.
Highsnobiety's e-commerce business focuses on carefully curated assortments as well as brand collaborations, released in a drop model and launched with an exclusive relaunch of Prada menswear line Linea Rossa.
On this week's episode of The Glossy Podcast, Hilary Milnes sits down with Highsnobiety's founder and CEO, David Fischer, to discuss the company's transition to e-commerce, its partnership with Prada, and the future content and commerce.
Could just-add-water products save us? - VOX
From mouthwash to kitchen cleaner, environmentally friendly dehydrated products are coming to your home.
It's a subscription refill service for five cleaning products that lets you choose your scent, your bottle and baseplate color, and — for an additional $7.95 fee that strikes me as patently ridiculous — a customizable label.
It's only in the past few decades that we've taken these formerly eco-friendly items, added in water pumped out of water-scarce areas ; thrown in aspartame, flavoring, parfum, and various other synthetic ingredients; put them in plastic bottles with cool logos and ridiculous health promises ; and shipped them around the world.
Pinterest rolls out browseable catalogs alongside Pins - Marketing Dive
Fresh efforts to streamline shopping on the platform come as a new report finds it's the most efficient digital channel for retail brands.
Pinterest is rolling out browseable catalogs alongside Pins and is now presenting shopping ideas in the home feed that are personalized for each user, according to information provided to Marketing Dive.
The study, which examined digital performance for five U.S. retail brands, tracked sales to physical and online stores from paid search, social and display ads.