Covering commerce daily from Amazon to Zulily.
You Can Now Rent a Dog for Your Runyon Canyon Hike - LA Times
Ever feel jealous of all those happy hikers strolling through Runyon Canyon accompanied by a loyal canine companion? Now you can get a taste of that sweet, sweet dog-walking life–for just $45 a hike.
The Original Rescue Dog Hikewas created by Free Animal Doctor cofounder Ryan Boyd to serve a bunch of purposes at once: It raises money for his animal welfare nonprofit; it gives Angelenos a low-pressure way to get to know some adoptable pets; the dogs get a chance to exercise and socialize; and Boyd takes advantage of the scenic backdrop to stage appealing photos of the pets for their adoption page profiles.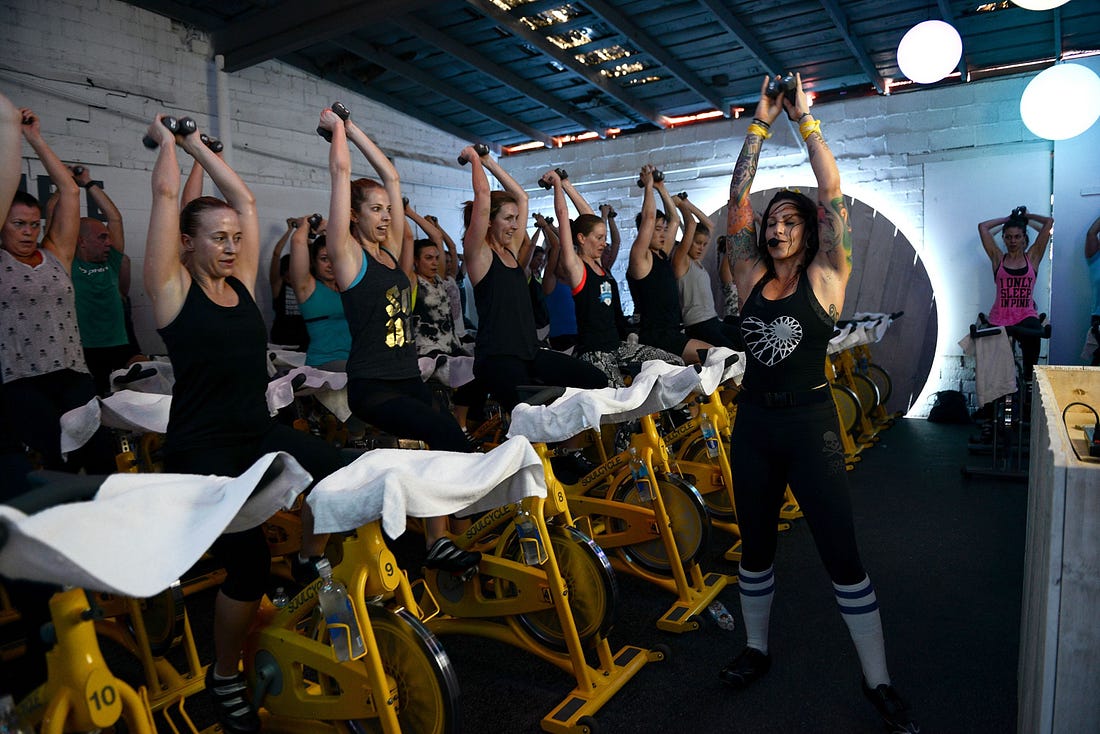 Fitness spending is flying high, but a recession could hit boutique brands first - CNBC
Growth in fitness is strong now, but analysts are already warning of a slowdown if the economy goes into a recession.
There are now more fitness options than ever — from big box gyms, to boutique studios, to streaming classes and even virtual reality workouts.
Names like Barry's Bootcamp, SoulCycle, Orange Theory, Zengo, Pure Barre, [solidcore], Club Pilates, Shadowbox and PlateFit.
Whitepaper | How Much Private Brand is Too Much? - NPD
With POS data at the store-level retailers can determine the right mix of private and national brands for optimal category sales.
But our research indicates that more private brands aren't necessarily the answer across apparel, food, technology, and other industries we track; retail may have reached an inflection point.
They're considered a thrifty generation; Gen Z has posed a challenge to key general merchandise industries, which have struggled to drive dollar growth among this cohort over the past two years.
The American consumer is strong, but it takes more than that to be a successful retailer today - CNBC
Amid the headlines of stores closures and retail bankruptcies, it can be tough to accept that the U.S. consumer is doing just fine.
Many retailers that have filed for bankruptcy in recent years were unable to pay off overwhelming debt loads from previous private equity leveraged buyouts.
In Kniffen's assessment, both Macy's Gennette and Penney's CEO Jill Soltau are employing good strategies, but the former department store executive added "the jury is out whether it will be enough."
Weight Watchers under fire for selling diets to children as young as age eight - CNBC
Some Weight Watchers loyalists applaud Kurbo by WW. But nutritionists worry Kurbo promotes an unhealthy relationship with food during an especially impressionable time.
You then choose a goal: eat healthier, lose weight, make parents happy, get stronger and fitter, have more energy, boost my confidence or feel better in my clothes.
Foster dismisses the idea that Kurbo is a diet, which he defines as a program like keto or paleo that labels certain foods as bad and encourages people to avoid them.
An Economic Warning Sign: RV Shipments Are Slipping - WSJ
Multiyear drops in recreational-vehicle shipments to dealers—many from the Elkhart, Ind., region—have preceded the last three downturns. Shipments have fallen about 20% so far this year, after a 4.1% drop last year.
Capital of the country's recreational-vehicle industry, the northern Indiana city and the surrounding area are watched by economists and investors for early indications of waning consumer demand for luxury items, often the first sign of economic anxiety.
Bra market research indicates comfort is most important to consumers - NPD
More women are buying sports bras. The latest insight into the intimate apparel market reveals the importance of comfort when U.S. women are shopping for bras.
Comfort and support continue to be the top influencers when women in the U.S. are choosing which bras to purchase for themselves, according to TheBra Evolution , a new report from The NPD Group .
"The enduring athleisure movement clearly expresses that comfort is king for today's apparel consumer," said Marshal Cohen, chief industry advisor , The NPD Group.
Why More Brands Should Pay Attention to the Nearly $290 Billion Adaptive Fashion Market - Footwear news
The category, which includes apparel and footwear for people with disabilities, has both philanthropic and financial opportunities.
That was one of the motivations behind Tommy Hilfiger 's adaptive collection, which the designer launched in fall '17, marking the first time a major American fashion label offered modified apparel for differently abled consumers.
In March, the company presented a special fashion show to its employees and vendor partners, created in collaboration with the Runway of Dreams Foundation, a nonprofit that participates in charitable donations, employment opportunities, design workshops and scholarship programs to raise awareness for the differently abled community.
What's Selling: Nike, Vans, Skechers & Uniform Shoes Lead BTS Shopping - Footwear News
What's not moving? Dress shoes. They take care of our uniform customers, babies learning to walk, dress shoes, boys' tennis."
Top trends: "We have a different business than most stores since we do [mainly] uniform shoes by Kesco, [imported] by Kepner Scott from Mexico.
Square rolls out Orders API to streamline fulfillment - Retail Dive
The payment company's latest developer feature manages customer orders from a variety of sources.
With APIs including Square's newest addition, developers can simplify the process and sellers can complete more order management tasks within a single platform.
The continued expansion of its developer platform and accompanying APIs further positions Square as a robust commerce management system, not just a POS vendor.
Foot Locker is opening more massive 'Power' stores across US—and it's teaming with Nike to do it - CNBC
Foot Locker's massive, new Power store in Manhattan marks the first time Nike has put its own technology into another retailer's bricks-and-mortar shop. Foot Locker and Nike plan to collaborate more in stores.
UBS analyst Jay Sole also earlier this month lowered his price target for Foot Locker shares based on the 10% tariffs set to go into effect Sept. 1, to $40 from $61.
The Washington Heights store is the start of a bigger rollout of Nike's technology, both with Foot Locker and other wholesalers.
Campbell Soup, Rolex top ranking of brand personality - Marketing Dive
Trustpilot revealed the "big five" basic traits are openness, conscientiousness, extraversion, agreeableness and emotional range.
Packaged foods giant Campbell Soup and Swiss luxury watchmaker Rolex topped a ranking of brand personalities that measured traits such as trust, openness, imagination and friendliness, according to a study that consumer review site Trustpilot shared with Marketing Dive.
Disney+ Sets First International Launch Dates - Hollywood Reporter
The Walt Disney Co. on Monday unveiled the first global launch dates — and pricing for its upcoming streaming service Disney+, setting dates for Canada, the Netherlands, Australia and New Zealand.
Disney said that more international territories will follow and that it expects to launch Disney+ in most major global markets within the first two years.
In addition to a massive library of content from Disney, Marvel, Lucasfilm, Pixar, National Geographic and 21st Century Fox (including being the exclusive subscription video home for The Simpsons ), the studio is investing heavily in original content for Disney+, with new live-action series based on its Star Wars and Marvel franchises, a new High School Musical series and a live-action update to animated classic Lady & the Tramp among the plans for the platform.
New Report Reveals 86% of US Consumers Expect Companies to Act on Social, Environmental Issues
A new study by Cone Communications adds to the body of work that links consumer shopping decisions to corporate values. The 2017 Cone Communications CSR Study examines consumer attitudes, perceptions and behaviors around corporate social responsibility, as well as if and how companies should stand up for social injustices.
Most interestingly, the study considers consumer behavior in light of today's political climate and shows that 67 percent of Americans believe progress on social and environmental issues will slow in the absence of government regulation — and their confidence in organizations to drive change is low.
Being a good employer Operating in a way that protects and benefits society and the environment Creating products and services that ensure individual wellbeing Investing in causes in local communities and around the globe Standing up for important social justice issues,
Nordstrom Did So Much Right, but It's Still in Trouble - WSJ
Nordstrom invested heavily in e-commerce, didn't open too many stores and has been quick to experiment with new types of shopping formats. Yet, it's suffering the same fate as department stores that innovated less.
Yet, it's suffering the same fate as department stores that innovated less, with year-over-year sales and profits expected to fall for the second consecutive quarter when it reports results on Wednesday.
Its stock is the second-worst performing in the S&P 500 retail index behind shares of Macy's Inc., falling 52%.