New Augmented Reality, DTC Attribution, Tariff Impact, Members Only YouTube, Solo Fitness, Facebook's AR, Toys for Adults, Rich Person's Servant
Enjoying the newsletter? Share it with others that would also enjoy it.
A New (Augmented) Reality for Brands and Retailers - BOF
Companies that don't make use of augmented reality technologies may soon find themselves unable to compete, argue Sarah Willersdorf, Christine Barton and Pierre Dupreelle.
Picture this: It's 2020, and Andrea, a 22-year-old student about to graduate from a top-tier school on the West Coast, has a summer internship FaceTime interview scheduled with a prestigious private equity fund for which she's been preparing for weeks.
For example, in November 2017, Japanese multinational beauty and personal care maker Shiseido bought Giaran, an award-winning, data-driven start-up with leading AI platforms for mobile, tablets and smart mirrors to offer consumers a way to apply and remove makeup virtually so they can see how they look before making purchases.
How DTC brands are navigating multi-touch attribution, explained | Modern Retail
As direct-to-consumer brands grow up and spend more money on traditional marketing channels, figuring out how effective each of these marketing channels are becomes a much more challenging process.
In 2017, Indochino started investing in building its own model that attempts to take into account "traditionally unquantifiable channels," including public relations and storefront presence, according to the company's marketing director Lisa Craveiro.
"Multi-touch attribution takes a lot of work to do accurately on your own and is very expensive to do with a partner," wrote Evan Woods, head of growth for DTC pet food brand Ollie, in an email.
Macy's CEO Jeff Gennette: Shoppers have 'no appetite' for price increases from looming tariffs
"We are working with our sourcing and tariff partners to mitigate the risk between vendors and our margins," CEO Jeff Gennette told CNBC in an interview Wednesday morning.
Tariffs of 10% on roughly $300 billion worth of goods imported to the U.S. from China were set to go into effect on Sept. 1, forcing apparel and footwear retailers to scramble ahead of the holiday season.
The United States Trade Representative office said the delay is for electronics, including cellphones, laptops and video game consoles, and some clothing products and shoes and "certain toys."
YouTube is testing a members-only videos feature - Digiday
Publishers think there's an advantage in selling subscriptions through platforms like YouTube where they have established audiences.
That potential spurred publishers like MotorTrend Group to opt to become one of the first media companies to join Facebook's video subscription sales program.
The social network has taken the model that Amazon, Roku and Apple have embraced and expanded it to make it more flexible for publishers and seemingly a better bargain for subscribers.
'We operate like a tech company': Inside The Arrivals' experimental distribution strategy – Glossy
On Monday, DTC fashion brand Arrivals dropped a collection of tie-dyed T-shirts in their first attempt at selling a collection through Instagram.
Based on the reception to the sale — the collection sold out within the first 12 hours of the intended 24-hour window — Hauser said The Arrivals would explore making Instagram commerce a bigger part of the brand's business model.
Smaller DTC brands have to leverage unorthodox methods to capture the attention of shoppers exposed to a multitude of labels and products every day," said Krista Corrigan, retail analyst at Edited.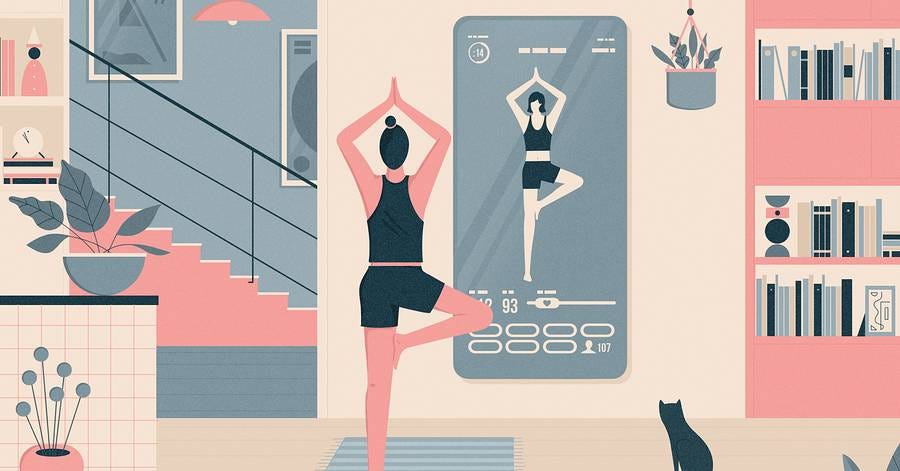 The Trendiest Fitness Class Now: Working Out Alone at Home - WSJ
Virtual fitness classes have grown past the novelty phase, with millions of people using apps and internet-connected gear to exercise at home. Gyms are fighting back.
Cara Casano used to go to a gym in Monroe, N.Y., four days a week for spin or body-sculpt classes.
The bike's display screen showed other riders and the instructor sometimes called people out by name.
Creativity for all: Facebook's Spark AR now lets anyone build and share effects on Instagram
A full-time video editor and television director, Chris Higa ( @chriseditingofficial ) draws his inspiration from trending cultural moments — like the recent Area 51 meme, which fueled the creation of his collaboration with Sallia Goldstein ( @salliasnap ), Alien Effect .
Whether you want to add a new layer of fun to an event like a wedding, birthday party, or graduation with a custom filter or you're a professional who wants to continue to hone their craft, Spark AR Studio has everything you need to get started.
How aggressively cute toys for adults became a $686 million business - VOX
8,000-plus characters, 29 Conan O'Brien dolls alone: inside the Funko Pop Vinyl phenomenon.
"Evergreen and classic" properties like Harry Potter , Star Wars , and Disney make up nearly half of all Funko Pop sales, but the company is seemingly constantly procuring new, unexpected licenses, from drag queens to food mascots to NASCAR drivers.
The near-indistinguishable Modern Family range inspired some backlash last year — commenters on Reddit's Funko fan page called the toys "bland af," "the newest generic human collection," and "sad."
Résumés Are Starting to Look Like Instagram—and Sometimes Even Tinder - WSJ
Employers are seeing a surge in CVs from Gen Z job applicants containing photos and illustrations; 'there's a freaking bitmoji'
When it came time late last year for 23-year-old Valentino Bogliacino Bueno to revamp his résumé, he added up top an oval photo of himself smiling.
He included a "by the numbers" section in large blue type to highlight points about his budding career.
America's Hot New Job Is Being a Rich Person's Servant
"Wealth work" is one of America's fastest-growing industries. That's not entirely a good thing.
But the business models that keep these firms aloft rely on the strategic avoidance of laws like the Fair Labor Standards Act, which regulates minimum wage and overtime pay.
In both types of situation, the relationship between wealth workers and their customers is easily exploited and often impersonalized—an oddity considering the intimacy of the work, which involves feeling hair, touching nails, massaging skin, entering a stranger's home to assemble his bedroom, or welcoming him into your car.
Digitally native brands want to open stores, and companies are helping them figure out how – Glossy
As direct-to-consumer retail platforms look to scale, they're seeing opportunity in traditional, multi-brand stores that are working to prove their relevance.
The store offered consumers a chance to test the products, and gave the retailer a physical presence that could be launched fast and free of hidden costs, said B8ta co-founder and president Phillip Raub.
Raub said the company is in the process of rolling out license agreements with other large retailers, as well as property owners, to help them create similar marketplaces.
​