Reddit Sells Out, Can't Fool Gen Z, Shrug Capital's Unusual Rise, Micro-influencers Gain Share, Stitch Fix Craters, Taboo Brands Embrace DTC
Covering trends in commerce, media, and marketing daily
Brands Can Now Pay to Trend on Reddit
Advertisers can get prime placement on the Popular feed and search tab.
On Monday, Reddit introduced its latest ad product, called Trending Takeovers, where brands can buy 24 hours of prominent placement on the social platform's Popular feed and within its search tab.
Adobe, the first brand to experiment with this new ad format, was offered the opportunity in September toward the end of a weeklong partnership with Reddit called Layers, an activation based on the popular Photoshop feature of the same name.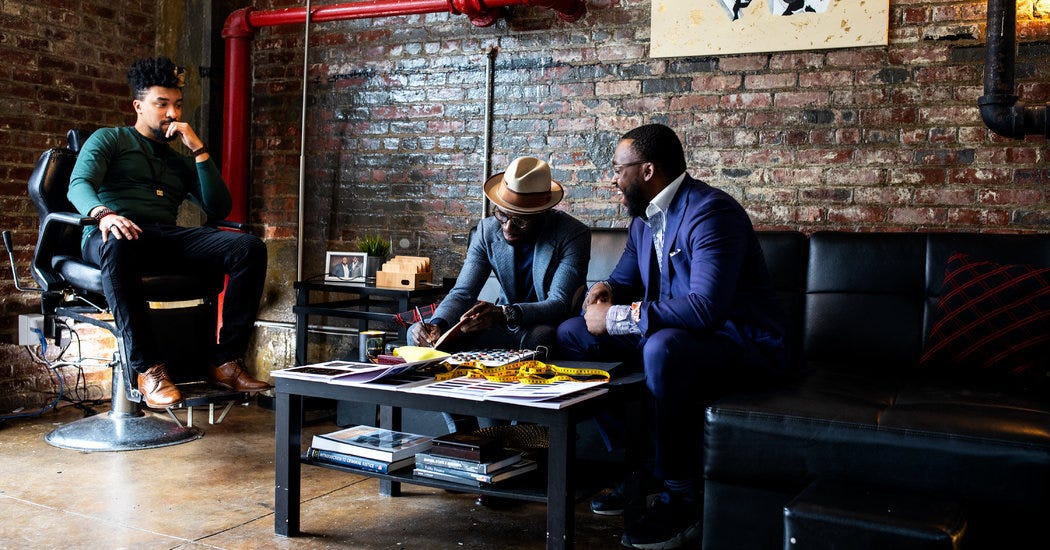 'For Us, by Us': Inside the New Social Spaces for People of Color
In New York City, there's a growing movement when it comes to places to gather.
Yet social spaces for people of color such as The Gentlemen's Factory — with its 100+ member strong base and a range of event programming, from finance workshops to wellness seminars — remain extremely rare in New York.
In New York, the law states that any public establishment must allow full and equal access to people irrespective of race , as well as "color, religion, or national origin." Alicia McCauley, Deputy Press Secretary of the New York City Commission on Human Rights, says, "NYC Human Rights Law protects against racial discrimination in any form, including in public accommodations such as social clubs.
Industry experts examine the consumer behavior of the next generation of digitally native consumers.
MSCHF's latest stunt is to pirate video from Netflix and Hulu and Disney+ and maybe build a brand – TechCrunch
It's very likely that you don't know MSCHF. It's also likely that you've come across one of their wild-ass projects. From "Jesus Shoes" filled with holy water to a collar that lets your dog finally tell you what it thinks about you to IRL loot crates that dare you not to open them — MSCHF […]
From " Jesus Shoes " filled with holy water to a collar that lets your dog finally tell you what it thinks about you to IRL loot crates that dare you not to open them — MSCHF has been launching highly viral stunts for the past year or so.
The premise is that MSCHF has picked up subscriptions to Hulu, Disney+, Netflix, HBONow, Prime Video and Showtime and it is broadcasting a continuous stream of one random program from each, live to anyone who hits the site.
Big Stunts, Small Checks: Shrug Capital's Unusual Rise
Niv Dror used to ride his motorcycle up and down Sand Hill Road to ogle the entrances to Sequoia Capital, Andreessen Horowitz and other iconic venture capital firms. Then working as an accountant auditing Chris Sacca's Lowercase Capital, Dror grew obsessed with powerful people and how they ...
Today, just two years later, the 29-year-old manages a $15 million fund of his own, the second in a series, called Shrug Capital.
They include a mix of virtual reality, direct-to-consumer underwear, and business and entertainment software firms, including exclusive email service Superhuman and an app for purchasing personalized video shoutouts from celebrities, Cameo.
Why All the Warby Parker Clones Are Now Imploding
How venture capital became the most dangerous thing to happen to now-troubled DTCs like Outdoor Voices, Harry's, and Casper
She managed to woo J.Crew retail legend Mickey Drexler to be chairman of her board, and when she relocated Outdoor Voices from New York to Austin in 2017, she quickly became the face of the city's hot, emerging startup scene, landing on the cover of Inc. magazine and the subject of a 10,000-word New Yorker profile .
Over the past couple of years P&G has bought several of these DTC startups, including Bevel, First Aid Beauty, Native Deodorant, and This Is L. But in a decision that came as a shock to all, in February Edgewell backed out of the deal after the FTC sued to block the sale , claiming it "posed serious harm to consumers" and that the proposed combination would "eliminate one of the most important competitive forces" in the shaving sector.
Nearly 80% of marketers want to work with microinfluencers
According to a new report, the shift comes as marketers seek clear metrics for assessing return on investment.
"As brands increase their influencer marketing budgets, it's clear that the industry is advancing into its growth and optimization phase," Nader Alizadeh, CEO and co-founder of Linqia, said in a statement.
"Marketers are moving away from celebrity influencers and toward authentic micro-and macro-influencers to create quality content on proven channels like Instagram, while also experimenting on newer platforms, like TikTok."
Website Setup Dubbed Headless Commerce Helps Retailers Boost SEO, Customer Experience
For many eCommerce companies Amazon's most important native advantage is not its purchasing and distribution power, but rather its ability to streamline and customize the payment process, making it frictionless and intuitive for consumers.
That makes retailers more agile in responding to granular user experience insights, but it also means a shift in many business models that were built around an all-in-one sales platform solution.
Stitch Fix shares crater more than 35% as sales miss and outlook disappoints
Stitch Fix shares tumbled Monday as investors fled the personal styling service, which issued a bleak outlook and reported quarterly sales that missed analysts' expectations.
"As we continue to evolve our personalization capabilities, we're confident in our ability to capture additional market share," CEO Katrina Lake said.
"We're working on both product innovation as well as experimenting into new and emerging channels to offset this, but we are applying more conservatism in the way we are thinking about our marketing spend in the second half of the year," the company explained in its letter to shareholders.
Co-Working Startup the Wing Saw Its Worth Shrink in WeWork Deal
(Bloomberg) -- The Wing, a female-focused co-working startup, was valued at roughly $365 million in the heady days of 2018, before WeWork's botched initial public offering
Why "Taboo"​ Brands are Thriving in DTC (and what we can learn from it)
The month of love has come and gone, so let's talk about something a little uncomfortable: your swimsuit area. Well, not specifically yours.
Published on March 9, 2020March 9, 2020 • 12 Likes • 1 Comments Head of Growth and Community @ Churn Buster | DTC Retention Specialist | Host of the Playing for Keeps podcast
Brands like MeUndies, Thinx, Unboundbabes, MANSCAPED, and more have done some great innovating where the product is concerned, but the biggest steps they've taken have been in reshaping the shopping experience .
Tesla Rolls Out 1,000,000th Car