Shopify Leading Resistance, Innovative Media Companies, Ex Glossier Starts Arfa, Tesla in Tennessee, DTC Fernish and Youth, Positioning of DTC Native Co
Covering trends in commerce, media, and marketing daily
How Shopify is leading the online resistance to Amazon
The e-commerce logistics startup behind Kylie Cosmetics, Allbirds, Rothy's, and others is building a retail network to compete with Amazon.
Tobias Lütke, cofounder and CEO, who began building Shopify in 2004 to make it easy for entrepreneurs to design e-commerce sites without hiring professional developers, still has a long way to go to catch up to Amazon, which controls half of all e-commerce sales in the United States and was responsible for an estimated $300 billion in transactions last year.
While the e-commerce giant pushes brands to lower prices, put up with counterfeits (and Amazon-branded knockoffs), and spend heavily on Amazon's ad and warehousing services to stay relevant in the site's search results, Shopify remains focused on empowering merchants.
The 10 most innovative media companies of 2020
How Spotify, Bleacher Report, The New York Times, Reese Witherspoon (!), and others are inventing the future of media as a direct relationship with fans.
Mittman credits the team's ability to "create and package moments—not just traditional highlights but ones that allow you to sort of read into the personalities and the subtext and the subplots of what's happening," as well as the fact that the content still feels like it's coming from individuals and not a big company.
What started as a single special issue—with essays and literary works on topics from mass incarceration to popular music to sugar—was widely lauded by media, politicians, and the general public (it sold out twice on newsstands).
Un-Limited: How Les Wexner ruled retail for 6 decades
As the industry says goodbye to its last "merchant prince," a timeline of the rise and fall of his empire.
The latest business to go is Victoria's Secret, with a majority stake sold to private equity firm Sycamore Partners as Wexner's own departure from L Brands was announced.
With that, L Brands is no longer much of a conglomerate, or even an apparel retailer, as the company focuses on its Bath & Body Works personal care business instead, and says goodbye to perhaps the last ever "merchant prince."
Ex-Glossier Exec Turns Customers Into Partners With New Personal Care Startup
Arfa aims to share profits with a collective that helps create, test and market new personal care products.
Quirky raised an eye-popping$185 million from blue-chip investors like Andreessen Horowitz and Kleiner Perkins when it pitched a similar crowd-sourcing model that solicited ideas from everyday people and rapidly spun out consumer products that landed on the shelves of Target, Walmart and Bed Bath & Beyond.
Arfa says its success will lie in lasting relationships it creates with consumers, which will include a financial incentive for several hundred people who will form a collective eligible for profit sharing and be tasked with talking about products online, and with friends and family.
Tesla weighs Nashville for new vehicle factory
Tesla CEO Elon Musk teases plans for new U.S. factory
Why it matters: The announcements via Twitter Tuesday night add some clarity to expansion plans for the Silicon Valley electric automaker, which has recently found itself on better financial ground ahead of key product launches.
"Incentives play a role, but so do logistics costs, access to a large workforce with a wide range of talent s, and quality of life," Musk told The Wall Street Journal in an email.
Netflix Tech Stack Has No Chill: How To Account for 15% of the World's Bandwidth
Disclaimer: This is NOT a press release by Netflix. Just my honest review of tech that helps us binge great content without hassle.
In early 2018, Netflix introduced its co-developed Dynamic Optimizer powered by AI techniques, which scrutinizes each frame of a video, then re-encodes, and compresses its size by an enormous amount without deteriorating its image quality.
Apart from being a Digital Content Platform, Netflix surely will emerge as a leading tech company owing to its hefty investments and support in technology and innovation which is quite evident by its open source programs.
5 different types of business funding SMALL BUSINESS FUNDING 5 Different Types of Business Funding Every E-Commerce Founder Needs to Know in 2020
For example, if you sell a physical product but can't afford to increase inventory before a busy holiday season, you run the risk of delayed orders or customers deciding to opt for purchasing from a competitor.
One major downside to crowdfunding is that, while platforms like Kickstarter may have thousands of potential backers registered, it still requires a lot of hard work and planning to get their attention and bring traffic to your landing page.
A secret initiative at Amazon known as 'Project Gesundheit' is working to create a cure for the common cold
The project is part of Amazon's research and development group known as "Grand Challenge" and is part of a "years-long" initiative, according to CNBC.
The secretive project is part of Amazon's "Grand Challenge" R&D initiative lead by Babak Parviz, who previously led an R&D group at Alphabet, Google's parent company.
Side effects could be more severe than the virus itself, venture capitalist Mike Pellini told CNBC.
Fernish Has Plans to Move and Grow With Younger Generation
It's the home furnishings version of Rent the Runway.
Fernish currently offers furniture rental in Seattle and Los Angeles, and its plan is to add other top markets such as Denver and Austin, for example, said Barlow, "given that's where data shows our customers are to be moving to, from, and around."
Fernish's target customers of millennials and Generation Z are already accustomed to subscription services like Netflix and Amazon Prime, so selling such a model, which is essentially a home furnishings version of Rent the Runway , is not difficult, Barlow said.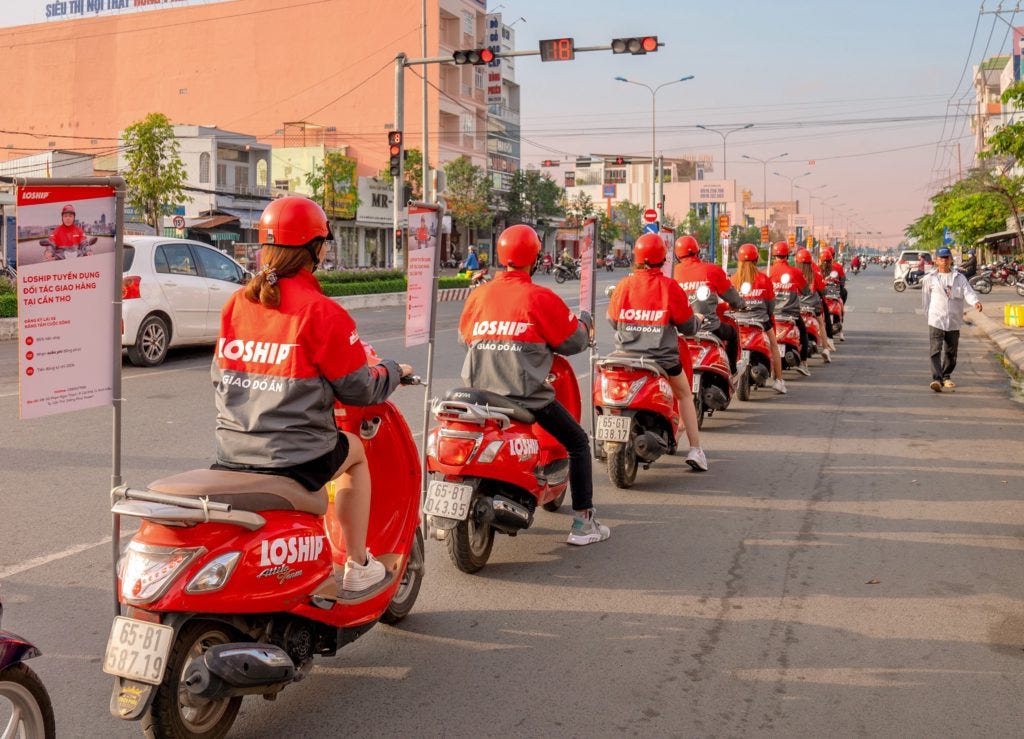 Vietnamese startup Loship is driving its way to become a 'unicorn' success
The market for e-commerce is thriving worldwide, and in the Southeast Asian country of Vietnam with its young population, opportunities
Given this circumstance, we are accelerating efforts to expand our reach into other lower-tier markets to unleash consumption potential further, offering fast and efficient delivery services to customers, especially those living in remote and underserved areas," says Trung.
Loship has the backing of committed advisors like Ju Young Yang, COO & Co-founder of Korean unicorn Viva Republica; Jeffery Paine, Founding Partner of Golden Gate Ventures; David Goddard, Head of Strategy and Business Development of Vietnam International Bank; and Kim Kyoung-Hwan, Vice President of Smilegate Investment.
Retail marks milestone: Storefronts peddling services overtake those selling clothes and other goods
The number of service-based retailers — such as a Dave & Buster's entertainment venue, a local spa operator or Cheesecake Factory restaurant — surged 20.5% from 2002 to 2017, totaling 1.2 million spaces, a new report from commercial real estate services firm JLL found.
The number of service-based retailers — a category that includes a Dave & Buster's entertainment venue, a local spa and nail salon operator or a Cheesecake Factory restaurant — surged 20.5% from 2002 to 2017, totaling 1.2 million spaces, a new report from commercial real estate services firm JLL found.
Within the past year, retailers including Pier 1 Imports, Barneys New York, Forever 21, Charming Charlie and Charlotte Russe have filed for bankruptcy protection.
How Outdoor Voices, a Start-Up Darling, Imploded
The founder was pushed out after clashing with experienced executives, highlighting a generational and gender divide within the clothing retailer.
This account of Outdoor Voices' struggles is based on documents and interviews with 15 current and former employees, investors and people close to the board, some of whom spoke on the condition of anonymity to discuss internal company matters.
Ms. Haney began Outdoor Voices in 2014 after completing a business program at the Parsons School of Design in New York, quickly finding success with "rec kits," which could pair colorful compression tops and matching leggings.