Sony's Podcasting vs. Spotify, DTC Trends in Post Acquisition Future, SpinDrift Raises $29M, Did Walmart Get SKU'd Via DTC Acquisitions?, How Rogue Fitness Started, Using Benchmarks, DTC Wholeesale
Covering commerce, media, and marketing daily.
Sony Attempting to Enter Podcasting Space to Challenge Spotify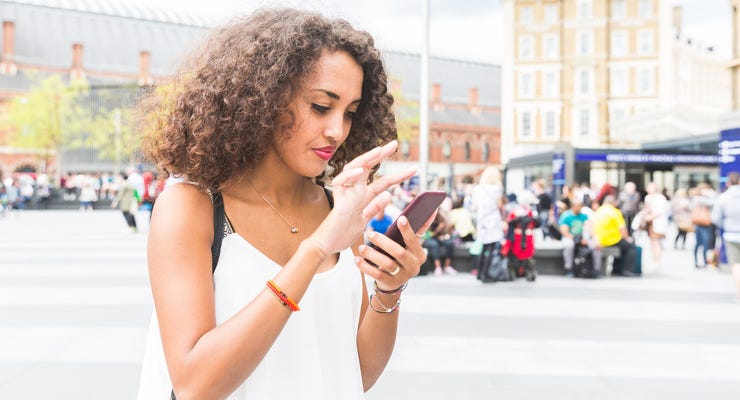 How Panera Uses AR to Heighten Cravings, Reaching Millions of Customers
Following up on the success of its #YouMix2 AR campaign, which debuted at SXSW last year, Panera recently launched a follow-up initiative.
As an early adopter of augmented reality technology, the fast casual restaurant chain Panera Bread has found that innovative marketing strategies are the key to grabbing the attention of consumers and driving in-store visits.
"We've been bullish on augmented reality for the last two years — we knew AR had the potential to increase craveability of our menu items, but we also wanted to ensure the right technology-based experience to allow for optimal transparency," said Panera Bread's vice president of marketing, Scott Nelson.
10 Ecommerce Trends for DTC Growth in a 'Post Acquisition' Future
In a world of rising ad costs, diminished profitability, and arduous scale, what is the future of ecommerce? 10 trends prove that the golden age of DTC is anything but over.
The above tutorial is currently unlisted on YouTube; to access it, download the "Future of DTC" PDF here and we'll send you a link As more brands move from market share to dollars in their pockets, knowing your variables and taking hold of those with the highest likelihood of impact will define success.
With over 24M views, this ad "has driven massive brand growth and revenue"No matter the channel, as DTC spreads its wings beyond owned funnels — tight cycles of paid-to-onsite and subsequent retargeting — a gap emerges between awareness, interest, desire … and action.
Spindrift, maker of fizzy drinks, has raised $29.8 million – TechCrunch
Spindrift, maker of fizzy soda and sparkling water, has raised $29.8 million in a funding round, per an SEC filing. The Charlestown, Mass. company was founded by Bill Creelman and has raised $70 million in known venture capital funding to date, per Crunchbase data. The company did not immediately r…
(In a quick aside looped up with a word we haven't heard in a while: The company also offered a Golden Pineapple sweepstakes, where 13 winners will get a year's-supply of free Spindrift and a custom mini-fridge).
Today, Spindrift raised more than Hint's total funding in one fell swoop, and both brands, alongside the age-old LaCroix, are synonymous with startup culture and recycling bins.
Cryptokitties Developers Launch Playground for Developers
Dieter Shirley, the CTO of Dapper Labs, told Cointelegraph that "a lot of the teams that are active in the [non-fungible token] space" have expressed interest in experimenting with the platform.
In September 2019, Warner Music revealed that its blockchain team would work with Dapper Labs to create tokenized assets on its public chain.
Printing Patterns: Inside Spoonflower's Fabric Factory - WALTER Magazine
Spoonflower, a printing company based in Durham, offers customizable patterns that can be printed onto fabrics and even wallpaper.
Here, a sprawling factory floor hums with behemoth machines, staffers perch in lofty offices and racks of fabric are bundled up, ready to head out the door.
"We love that we're bringing this tradition back to the state." The company frequently hosts local makers in their studio space for sewing lessons, design workshops and charity meetups.
Netflix Premieres First Ever Documentary About Black Women CEOs
Black women CEOs and entrepreneurs are the stars of the newest Netflix documentary called She Did That. Filmmaker Renae L. Bluitt created the documentary to promote a more accurate representation in the media of Black female business owners.
She Did That is Bluitt's first cinematic project, and as a digital content creator and PR consultant, she has been writing about the entrepreneurial pursuits of Black women on her blog, In Her Shoes , for nearly a decade.
"As the fastest group of entrepreneurs in this country, [Black women] are literally turning water into wine in spite of the many obstacles we face on our entrepreneurial journeys.
SKU'd: Walmart regrets everything it ever purchased
The one where a big-box retailer goes on a shopping spree, purchases a bunch of companies, then decides to drop them all.
"Walmart wanted to better understand the e-commerce space as they were seeing their competitors Amazon and Alibaba grow at a faster pace," Go Global founder and Managing Director Jeff Streader said in an earlier interview with Retail Dive .
The service showed some cracks in the fall of 2019 when it changed its leadership from former CEO Jenny Fleiss (who was co-founder of Rent the Runway), to Nate Faust, who was serving as senior vice president of supply chain and logistics with Walmart's e-commerce unit.
Six New DTC Kitchen Brands That Are On Fire
Cookware companies are making it easy to source high quality knives, pots and pants and other essential cooking and baking utensils at affordable prices.
"Which is why our sets come with a unique storage system that allows users to best organize their cookware and minimize the space they take up in the kitchen." Nathan pared down the product offerings to four essential pieces that people use frequently.
"Field Skillets are lighter than other modern cast iron cookware, and our smooth, vintage-style cooking surface is designed to readily accept seasoning for safe, naturally non-stick performance," says Stephen.
The Man of Steel Behind CrossFit's Favorite Gym Equipment
Rogue Fitness is committed to building the best workout gear in the world in the USA.
The 44-year-old is the founder, CEO, and sole owner of Rogue Fitness , the Columbus, Ohio, company that makes all the barbells, racks, kettlebells, and other equipment used in most boxes.
One of Henniger's principles is "high speed, low drag." It's a military phrase that means doing things as efficiently as possible and applies to everything from product design to manufacturing processes to his workouts.
Benchmarking In ECommerce: How To Use The Data Wisely
In the words of Digitally Native : "The goal for any brand is to create unique value for the end consumer, so modeling yourself off others even in terms of operating benchmarks / KPI is a step in the wrong direction."
Rather than only looking at broader concepts (like average CACs for the industry), more specific benchmarks can help you hone in on smaller elements of your business (albeit, they're much harder to find).
Growing a DTC via Wholesale and Direct