Vertical Capitalism, Entrepreneurship During Economic Crisis, eCommerce Ad Spend Up, The Multiverse, Artists Flock to Zoom, Virtual Training App Boom, Fashion Hit Hard, Royal Influencer
Covering trends in commerce, media, and marketing daily
History of Entrepreneurship During Economic Crisis
New companies will emerge to address today's environment. Companies are often born out of difficult time. Think business models and pain points that are illuminated by the crisis.
E-commerce ad spend doubled as social distancing behavior took hold
New data shows that e-commerce sites doubled their advertising spend between mid-February and the second week of March, as social distancing started to become the new norm for consumers.
For its part, Amazon is hiring 100,000 workers to meet fulfillment needs and announced last week it is will only receive essential items to its warehouses.
A multiverse, not the metaverse – TechCrunch
Following web forums, web platforms and mobile apps, we are entering a new stage of social media — the multiverse era — where the virtual worlds of games expand to become mainstream hubs for social interaction and entertainment. In a seven-part Extra Crunch series, we will explore why that is the c…
In fact, because they incentivize small group interactions and accomplishment of collaborative tasks rather than promotion of viral posts, multiverse virtual worlds will bring a healthier era for social media's societal impact.
Some of these more casual, socializing-oriented MMOs will gain widespread popularity, the economy within and around them will soar and the original gaming scenario that provided a focus on what to do will diminish as content created by users becomes the main attraction.
How Influencers Are Milking the Coronavirus for Clout—and Money
Or at least trying to.
And true to form, some influencers both established and aspiring have responded to the global pandemic by posing in gas masks, using the virus to sell their own products, and even, in one confounding case, licking an airplane toilet.
"An influencer already has a strong following on social media...if they do put misinformation out there and it starts to get retweeted, it could travel very quickly," Dr. Jarreau said, adding, "It's also very difficult to correct myths." It's hard to reach everyone who has seen a piece of false information, she said.
For artists, the show must go on—and Zoom is their venue
Stuck at home amid the pandemic, creative people are finding new ways to use videoconferencing software that once was confined to the home office.
While Center for Puppetry Arts in Atlanta has offered some programming via Zoom, it's also using Facebook Live to stream some larger performances and in cases where two-way video communication isn't necessary, explains interim managing director Beth Schiavo.
Of course, not every artistic outlet on Zoom needs to be educational: Dustin Senos, who lives in Vancouver and works in the tech industry, recently set up karaoke.camp , which lets would-be singers from around the world connect to a computer live-streaming a licensed catalog of tens of thousands of karaoke tunes.
Demand For Virtual Training Apps Climbs in $19 Billion Youth Sports Space
With tech-powered training options, clubs, coaches, and trainers also have the opportunity to augment their lost earnings on these mobile platforms through one-on-one sessions, which Famer hopes will help them "avoid a significant loss of revenue."
The company sees value in discounting pricing and potentially losing out on some of an increased revenue stream in exchange for supporting the industry they want to partner with and driving usage and users to the platform instead.
"The Fashion Business Has Been Hit Hard"—Retail Industry Sends Letter to the White House Calling for Support Amidst Coronavirus Crisis
The letter to the White House from the CFDA and 90 retail industry trade groups calls for economic stabilization efforts amidst the coronavirus crisis.
Citing impending cash flow issues for brands up and down the price spectrum Prabal Gurung told Vogue that "this situation will not be fixed by a sale." Brandon Maxwell , for his part, said "my main focus through all of this is going to be my team and keeping everyone employed, number one, and making sure everyone is feeling healthy, mentally and physically." Retailers, too, have been forthright about the struggles posed by "stay-at-home" and "shelter in place" regulations.
Yesterday, the CFDA and 90 business groups including the National Retail Federation, the Accessories Council, and the Fashion Footwear Association of New York brought their concerns to the White House, sending a letter to President Trump calling for economic stabilization efforts amidst the coronavirus pandemic .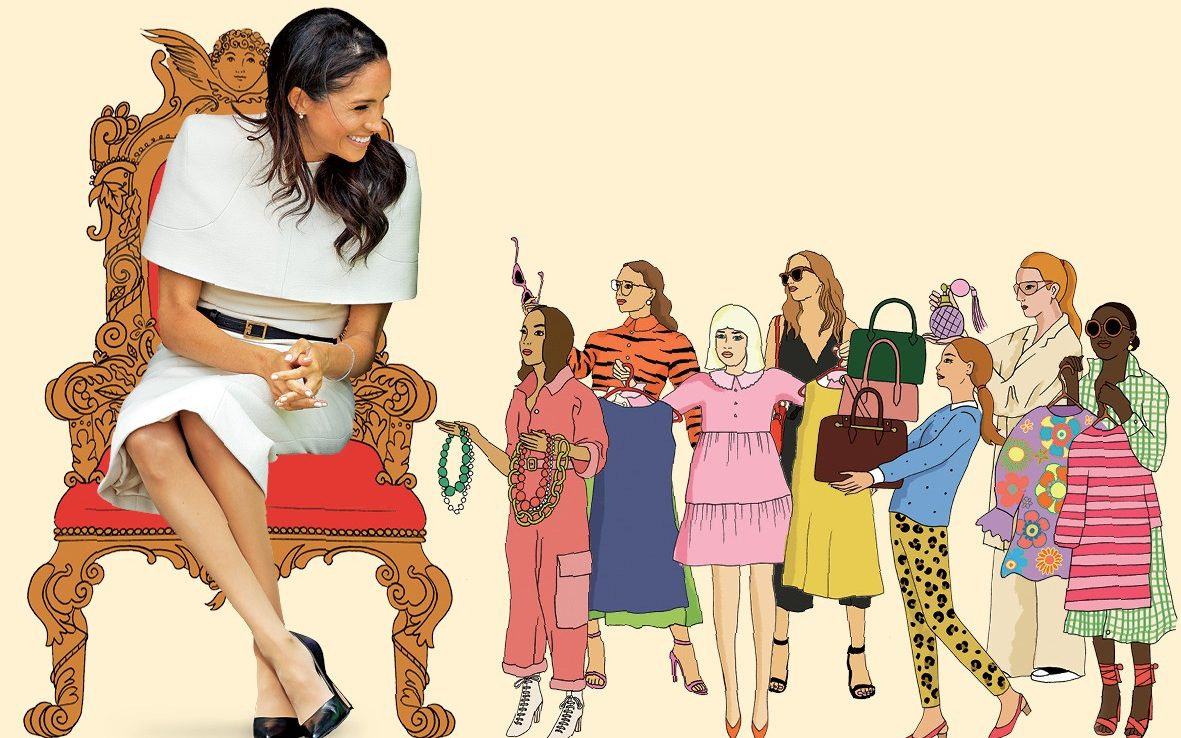 How Meghan could become the world's most powerful fashion influencer
In the summer of 1956, Grace Kelly was the world's most talked-about woman.
When she became the first royal to guest-edit British Vogue last September – after meeting editor Edward Enninful to enlist his help with her charitable causes – her 'Forces for Change' concept, which saw her choose a cast of activist cover stars, was the magazine's bestselling issue in a decade and the fastest-selling ever, disappearing from shelves in 10 days.
One label that might benefit from this approach is Rothy's, a shoe brand based in San Francisco that uses plastic bottles to create its signature lightweight, flat pumps, loved by the commuting cognoscenti in the US, and is set to come to the UK this year.